JOB TRAINING
Learn more about our job training.
Adult Work, Vocational Training/Community Rehabilitation Program
STARC's community rehabilitation program is for individuals who need pre-vocational and vocational training, as well as those seeking opportunities for structured work.
We provide a center-based environment at licensed facilities in Slidell and Mandeville, where our seasoned staff work closely with individuals to help them develop, increase and retain skills necessary for the performance of productive and meaningful work. Individuals engaged in work at STARC facilities are paid, under Fair Labor Standards Act work certificate guidelines, at a piece rate or based upon their productivity level.
Community-Based Work
This service is for individuals who have acquired the skills necessary to perform work in small group settings under the direct supervision and support of a Work Crew supervisor or can work independently.
STARC Mobile Work Crew/Enclave
This service is for individuals who have acquired the skills necessary to perform work in an employment setting in which a group of two or more recipients, but fewer than eight, perform work in a variety of locations and/or industrial settings among typical coworkers under the supervision of work crew supervisors.
Designed to provide employment through contracts in the community
Operated at a customer's site
Provides meaningful wages and continuous opportunities for crew members to interact with the public
Paid in compliance with the Department of Labor Regulations
Developed to provide integration opportunities with typical co-workers through use of common dining facilities, break areas and other settings and events that are consistent with the workplace environment.
Supported Competitive Employment
This service is for individuals who have acquired the work skills necessary to independently perform work in a competitive environment in a community setting.
When individuals with disabilities are ready to enter competitive employment, STARC offers the following services and benefits:
Job opportunity identification: STARC assesses and prepares our clients on life skills, job readiness, and job preparedness
Job matching: STARC prepares and guides our clients so they can become more productive and self-confident
Ongoing support, including job coaches on a temporary and as-needed basis, who follow individuals placed in competitive jobs
Motivation and inspiration so they stay in the program, meet bars of success and learn how to expect more from themselves
Competitively employed individuals are:
Paid wages by the employer at or above the minimum wage
Eligible to receive the same employer-provided benefits as other employees
Highly integrated with typical co-workers
BETTER WAY SERVICES
STARC's Better Way Services (BWS) provides job opportunities for individuals who have acquired the skills necessary to perform work in the community or in a center-based environment. BWS offers numerous professional services and retail items to citizens and businesses in our community.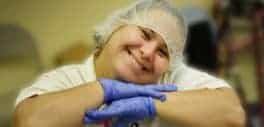 Janitorial
Work crew supervisors work side-by-side with the individuals we support to keep buildings clean, compliant and sustainable. Outsourcing janitorial services means more focus on business. Not only does it save time, effort and resources, it also gives an efficiency edge in today's competitive landscape.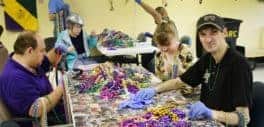 Mardi Gras Beads
Donated beads are sorted and packaged into mesh crawfish sacks and then sold to parade riders in local and regional carnival krewes.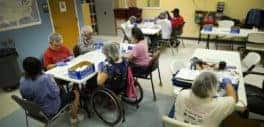 Flatware
Disposable flatware is packaged according to the customer's preference and sold for use in restaurant and food service applications such as catering and to-go orders.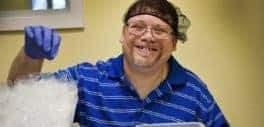 Custom Assembly
A variety of items are assembled, bagged or packaged to match customer requirements.
FOR EMPLOYERS: Supported Competitive Employment
The benefits of loyal, reliable and dedicated employees are clear.
A study conducted by the Institute for Corporate Productivity revealed that more than three-quarters of employers surveyed ranked their employees with disABILITIES as good or very good on work quality, motivation, engagement, integration with co-workers, dependability, and attendance.
And thanks to STARC, you have access to a pre-screened, highly motivated labor pool of local residents with disABILITIES, who are ready, willing and able to meet your job expectations. STARC provides assistance on all levels of employee training and follows up to ensure the employee continues to succeed.
Add to your overall sense of workplace community and increase your profit dollars, should you choose to take advantage of the Work Opportunity Tax Credit Program (WOTC). By employing the people we support and meeting the minimum state hourly requirement of 20 hours a week per person, you can earn as much as $2,400 per new hire and 40% of qualified first-year wages. We provide you with all the information you need to take advantage of this generous state program that requires only minimal paperwork. Best of all, there is no limit to the number of new hires you can submit for this tax savings.